Although we are a Southern Baptist Church in the Rocky Face Association, we support both SBC and Independent Missionaries.
Currently we support Gideons International, Haitian Christian School for the Deaf, Kids Alive International, Tri-State Children's Home in Bristol, Tennessee, Rock of Ages Prison Ministries (Steve Horton), Danny Reeves in Mexico, Itinerate Missionary Services to the Pacific Northwest-Canada-Alaska (Mike Sutphin), and Peruvian Missions (Sean & Crissy Heath Family) and the Cooperative Program.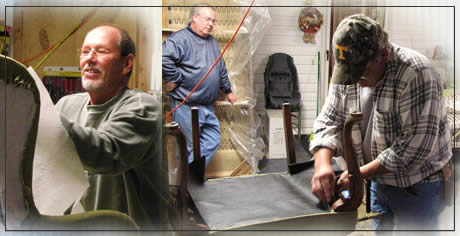 Photo above shows our members reupholstering chairs for the Caring Hearts Pregnancy Center.
Concerning local missions, we support the Taylorsville Baptist Camp Meeting, Hospice and Home Care of Alexander County, The Domestic Violence Center of Alexander County, the Christian Crisis Center of Alexander County and Caring Hearts Pregnancy Center. We have a Brotherhood and Sisterhood Visitation and Help Ministry that is active to assist in local benevolent needs as well as many other individual benevolent needs.
Note: If you are in need of food or clothing assistance, or are a burned-out victim, you can contact Debbie Hollingsworth at the Christian Crisis Center 828-632-0022 between 9:00 am and 12:00 noon Monday through Friday.
Crisis Center Food Ministry Collections on 2nd Sundays