Click on photos below to enlarge.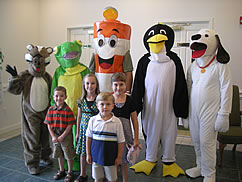 VBS characters from recent years
Children represent the future of our church and faith. God has blessed Mt. Nebo Baptist Church with over 100 children under the age of 18 and 60+ from kindergarten through 4th grade. The Bible says of children, "blessed is the man that hath his quiver full of them".

As the church continues to grow we endeavor to both train and enhance the spiritual growth of our youth through preaching, prayer, bible study and fun activities and outings. Your child is welcome to join us as we learn to serve Jesus Christ together.
The added space of our new facilities has helped us a great deal. Our Youth Programs would not be what they are without the love and support of the many teachers and helpers who volunteer their time year after year. Our church has recently completed the construction of a new multi-purpose complex for fellowship, educational, and youth activities.